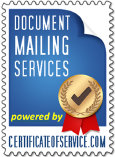 www.certificateofservice.com
...we push the envelope
Old Forms or New Forms
OLD FORMS

Support for these forms has ended..
NEW FORMS

You will find these to be much more accomodating for you different mailing applications.
WHY HAVE THE FORMS BEEN UPDATED?
Well, arguably, because they are more than a little outdated! We've expanded immeasurably since we first started offering mailing services a decade ago, however, we have not truly expanded our forms to deal with the increased demand. Please find our new form sets by following the NEW FORMS link. We think you will find these forms much more intuitive and easy to follow. Some of our options have been removed and we've updated our forms with new questions and features to make your input experience even easier.

Of course, even working your way through an online form beats having to stuff your own envelopes!